The Phoenix Podcast
explores the world of mysticism and the paranormal in this episode (
approximate running time, 27 minutes
).
You're heard about psychic readings and tarrot cards...are they real or just a bunch of smoke and mirrors? Is there some truth to what's revealed, or the "psychics" simply scamming you for your money? As a healthy skeptic, I investigate the world of oracle card readings...
I had the pleasure of interviewing Melissa of The Avalon Orcacle. She helps others by using oracle cards, similar to tarrot cards. You can visit her website
HERE
. She gives us some insight into her work, and she even
gives ME a reading!
Melissa's explanations shed some light on her gift, and my reading is absolutely AMAZING. Some very freaky and supernatural stuff happens. And you'll hear it all...on
The Phoenix Podcast, Episode 4:
The Avalon Oracle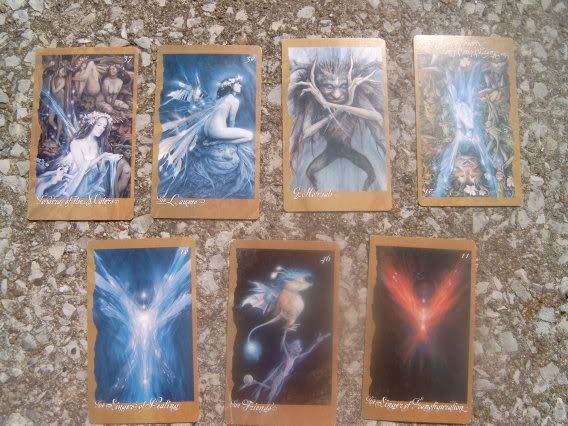 Here are the cards I drew. Do these cards reveal profound and personal issues in my life? Or is the reading composed of broad general statements everyone can relate to? Judge for yourself!
---
Music Credits

Podsafe Music Network

DJ Topshelf "The Edge of Illusion"
Briareus "Archetypcal Desert"
Subtronix "Reason Four"
---
Call 206-338-2991 to leave me a message and be a part of the show!
Tell me what you think of this podcast episode or anything you want.


To play using Podomatic, click the button below:


Or to use Castpost, click the play button and then hit the pause button right when it begins playing in order to allow it to fully load first. Then you can hit play to listen to the podcast.
Powered by
Castpost
---
For an Avalon Oracle reading, or for more information, contact Melissa via her website at
www.avalonoracle.com
. She offers a FREE one-time three card reading as a gift to you. For those in the St. Louis area, Melissa is available for one-on-one and group readings. For everyone else, she also does online readings. She will send you a picture of your cards and can even send you the audio of your reading.
Experience and explore the
Faeries' Oracle
.