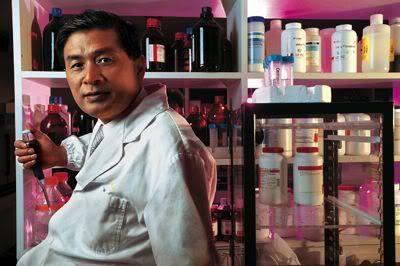 I've written about serendipitous moments in recent scientific history
HERE
. It really is amazing how so many of our most important discoveries have been made by complete accident. Sometimes, the genius is in identifying something groundbreaking in the middle of a big fat ooops.
Most recently, there's been an amazing discovery found amidst controversy and shame. South Korean scientist
Woo Suk Hwang
(
how would YOU like to be named a name that sounded like "

you suck wang
?") was the once decorated geneticist that fell from grace when it was discovered that he had faked his work. In 2004, Dr. Hwang had declared that he had extracted the world's first
stem cells
from a cloned embryo.
It was soon discovered that Hwang used eggs from his female

researchers and that the stem cells he had "extracted" weren't from cloned embryos at all. He was stripped of his job and charged with fraud and embezzlement.
The
Harvard Stem Cell Institute
decided to review Hwang's work. What they found was something spectacular: the stem cells that Hwang extracted have come from embryos produced through
parthenogenesis
, or "virgin birth."
In other words, Hwang must have stimulated the eggs to divide while trying to clone them. The stem cells harvested from these eggs were created without needing sperm to fertilize them. The whole
controversy surrounding stem cell
research is the moral one - the need to create life in order to get those precious stem cells.
But if you could somehow make eggs divide without being fertilized - you're not creating a life in the first place. This would allow scientists to get stem cells, which are the building blocks of life, without having to resort to first having to make human embryos.
Now the only question will be, how will the lack of having paternal DNA affect the the quality of stem cells? Scientists are pretty sure, however, that the quality of these "virginal birth" stem cells will be of higher quality that cloned ones.
So,
Woo Suk Hwang
, maybe South Korea can reinstate you for your accidental breakthrough. At the very least, maybe your parents can issue you a public apology for naming you after a porno flick.