Again, thanks to those that read my Spooky Stories Series this year. I hope it was both entertaining and interesting.
A few of you have actually been coming to my blog since 2005, and you just might remember my posting a picture of my son,
The Dominator
, in a
Transformers costume I made
. I decided after a year off, I would once again create a Halloween costume for my now seven-year old.
The Dominator
wanted to be a cyborg - not THE cyborg featured in the D.C. Comics, but just a cyborg. Below is the final result:
The Dominator Cyborg: Half boy, half machine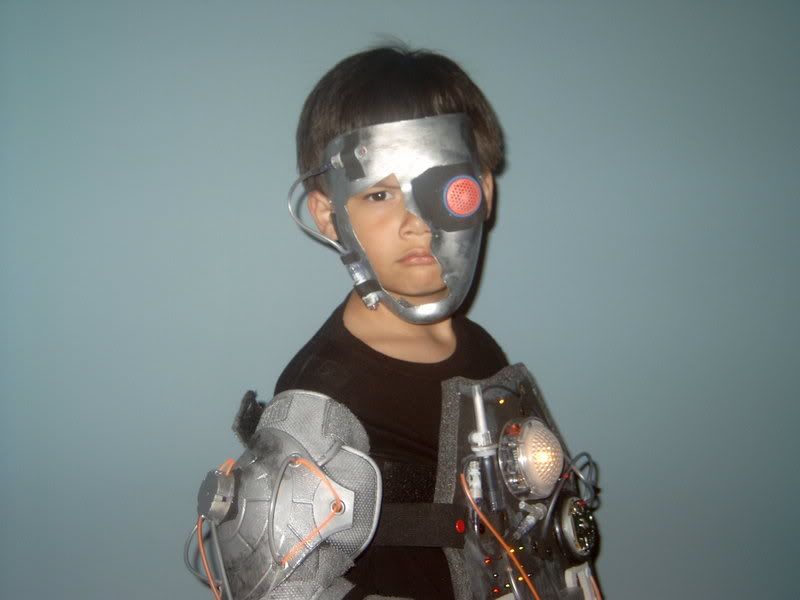 Notice the blaster marks on the robotic arm and face. It's rough being a cyborg.
The glowing laser sword on his hand is removable in case any bad guys wanna get messed up.
That is indeed a circular light on his chest, little LCD lights all over that chest plate, and the robotic eye and tubing all glow in the dark.
Here's what I used to make this suit:
*A plain white mardis gras mask: $3 at Wal-Mart
*Used skating pads/gear: $4 at Goodwill
*Old tap light that I repaired: FREE
*Tiny portable LCD lights: $6 at Hobby Lobby
*Laser sword: $1 from the Dollar Store
*Glow in the dark rubber rope: $4 at Hobby Lobby
*Tubing: FREE (I work in hospital sales, so I just used some IV tubing and stuff)
*Cheap-ass glue gun that smoked and then blew up in my hand: $1.00 at the Dollar Store
*Fine quality glue gun that worked very well: $5 at Hobby Lobby
*Silver Metalic spray paint: $5
*Cardboard for chest plate: FREE
*Silver, white, black acrylic paint I already had: FREE
*Black foam: $1 at Hobby Lobby
*Foam weather stripping with adhesive backing for chest plate: $2 at Wal-Mart
*Various velcro: $4
*Some junk including a piece from a broken sweater shaver thingy I used to make the robotic eye, pieces from a broken little portable radio for the chest plate and robotic knee, and two medicine container caps for the robotic arm: FREE
Total cost:
$36
Total hours of labor:
16
Why or why didn't I just buy him a costume?