In "celebration" of Hollywood's latest alien invasion movie, Battle: Los Angeles, I present to you a post from my old blog from 2007 about the REAL battle in LA. A reported UFO did freak the people of LA enough for the military to fire anti-aircraft guns at it.
This is real. This did happen. You cannot make this stuff up. Enjoy!
Late at night, on February 25, 1952, strange flying objects in the sky over southern California created a scary scene right out of such movies as
Independence Day
or
War of the Worlds
. Air raid sirens awoke the residents of Los Angeles, and hundreds of thousands of eye witnesses watched the 37th CA Brigade fire a barrage of anti-aircraft shells at the invaders.
The reports as to the number of UFOs descending upon Tinsel Town are varrying. In the very early morning of the 25th, an unidentified object was picked up by radar about 120 miles west of Los Angeles. The information center was later flooded with calls concerning incoming "enemy planes" even though the object disappeared on radar while over the ocean.
Just before 3 AM, "enemy planes" were spotted near Long Beach, and minutes later, a coast artillary colonel reported seeing about 12 craftsw flying towards Los Angeles. Soon, four batteries of artillary fired anti-aircraft shells at the UFOs.
The UFOs dropped no bombs, and despite being hit with over 1440 rounds of ammo, none of them crashed or suffered any damage. The UFOs simply hovered south, and quickly disappeared over the ocean south of Long Beach.
Below is the story that ran in the Los Angeles Times on February 26th: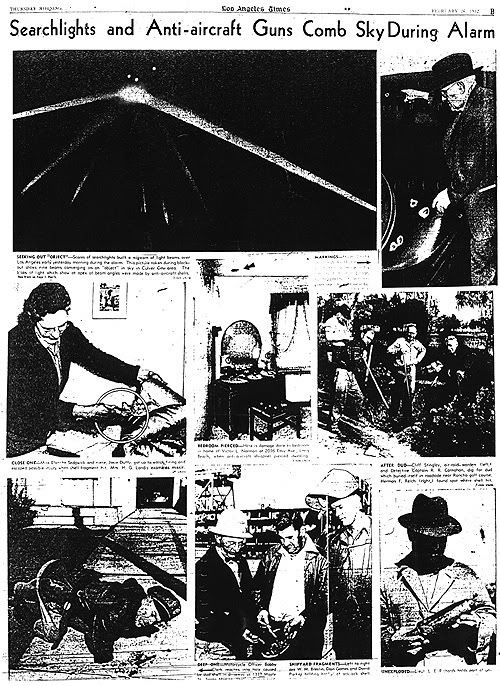 That top picture is actually a photograph of spotlights hitting the UFOs while anti-aircraft shells are being fired at it. We'll take a closer look of that one picture in a second. But as you can see, lots of shrapnel from the missiles also fell upon L.A.
Six civillians were killed and others were injured
!
Below is that top picture from the inside page article.
This
picture came directly from the negative, so it's much clearer than the photo from the 1942 newspaper article. If you look very closely, you see some very interesting things...
First of all, from this very clear picture, you can make out only one object - and it's triangular. Secondly, those little bursts of light underneath its hull is probably the explosions from the anti-aircraft shells. Now remember, this is 1942 - the time of "flying saucers." Those explosions could be mistaken as UFOs flying in formation, as many witnesses stated. Finally, it's interesting how the spotlights have converged onto one single spot. Later, the military would conclude there were
NO
enemy planes over Los Angeles.
Yeah right. So what were the spotlights trained on? And what did the artillary unit shoot at?
Following the "battle," the military began it's investigation. The Navy said there were no enemy aircraft at all. The Army went back and forth until saying it was a false alarm. And the Air Force said they didn't think there were any enemy planes above. After an investigation and hearing, the War Department disagreed and concluded that there were at least one to five planes that flew above Los Angeles, and were probably meant to figure out the coast's defenses.
If that's true, then they're admiting that their artillary unit guarding the West has to be the absolute worst marksmen in the universe.